Halloween is just around the corner 🙂
About 2 weeks ago I had an idea for some lovely earrings.
I found those little metallic roses in black. Those filligree pieces I already had.
Also those patina inks in the wonderful halloween colors.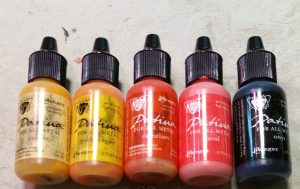 Those inks are NOT the usual alcohol inks you use when working with polymer clay or paper.
They are opaque and paint metal.
So I painted those filligree parts with the patina inks.
I usually take a cotton swab and add only a drop or two of ink, since it is very yielding.
First I took the lighter colors and dabbed them on the metal piece, then the black at the edges.
You can mix the colors it the paint is still wet.
Then after letting it dry I glued the roses in the middle, put on hte ear hook and the lovely halloween earrings are finished.
Simple but effective 🙂