So I wanted to make my mom a nice gift for Mother's day.
She likes a dark blue and so I made a little pendant for her with nail polish and a clear glass cabochon.
I'm sure you all got some old nail polishes at home you don't use anymore. Might be that the colors are not fashionable at the moment or they thickened over time which leads to enormous drying times.
This is all more or less unimportant when designing jewelry with it as long as the colors fit your project.
I usually take an effect top coat and a color polish. But of course you can choose more than one color – everything to your liking (or the person you make it for).
So, here is what we gonna need:
glass cabochons in the desired size
various nail polishes
nail polish remover
paper towels
glue (optional)
jewelry blanks (optional)
a little time 😉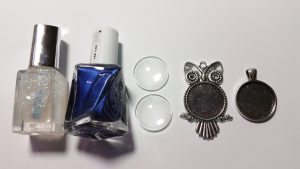 First I always clean the glass cabs on the flat side – the back.
Then I apply the first layer of the top coat.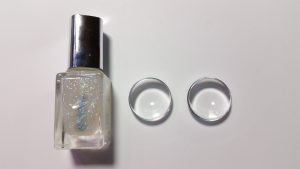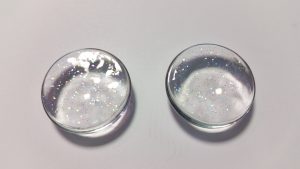 Other than using the polish on your nails you can here paint a thicker layer with no problem.
Just make sure they dry thoroughly before the next step.
If you are pleased with the look of the effect comes the color.
And after drying you see what the cabs look like.
I don't recommend turing over the cabs before at least drying a bit because the polish might run over the edges and your fingers – I know what I'm talking about 😉
It is better to restrain your curiosity a bit……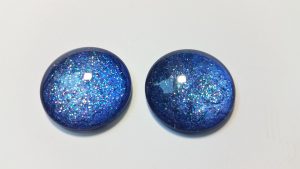 Taadaa!
They are finished.
Now you can use those for your bead embroidery designs or – as I did here – glue them in some jewelry findings.
And if you don't like them you can simply take some nail polish remover and start over again.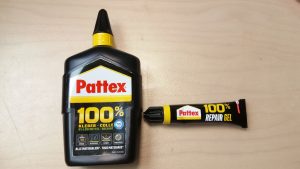 These are the glues I usually use. They are free of solvents and have a great adhesive force for the glass cabs.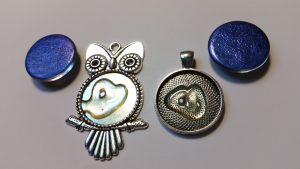 You don't need a lot of glue. Put the cab with the flat side into the blank and carefully press down. If you used too much glue it will come out at the sides. You need to clean that with a kittchen towel before it dries. Possible traces on the blank or the cab you can clean with nail polish remover or some isopropanol.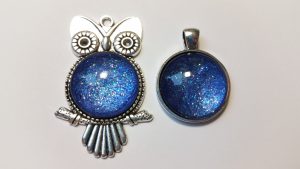 Aren't they amazing???
The owl gets some rhinestone-eyes and a loop for the necklace, the simple one already has a loop.
Every piece you create that way is OOAK – one of a kind.
My mom loves her pendant and the owl will probably be a nice gift one day…….